EV Private Equity celebrates International Women's Day
As part of International Women's Day, we showed our support by striking the #ChooseToChallenge pose and asking our team about how we can challenge inequality in the private equity sector.
First up, our Managing Partner, Helge Tveit – how do you think we can encourage gender balance in the PE industry?
"Firstly, I think we need to be very aware of some inherent biases that exist in relation to gender balance and diversity in general. Typically, most people have a tendency to hire individuals that are similar to themselves. Since the PE industry is dominated by men, I think this is the first challenge the industry has to work on.
"Secondly, when it comes to compensation, work content and promotions, leaders in the PE industry need to be equally alert to the same phenomenon.
"And finally, I think the PE industry needs to work on overall inclusion which will help attract and retain females in the industry.  Key topics would include career pathways that cater for a sensible work-life balance.
"At EV, 25% of our team are women and we're striving to build on this in 2021 and beyond. It's important that the PE sector recognises its current under representation of women, currently only 17.9% worldwide, and is active in encouraging more diversity."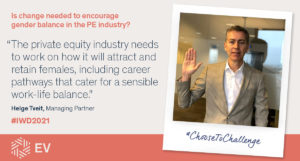 Next up we asked Senior Office Manager, Jackie Burke – who is your inspiration?
"While at university back in the 90's, I had to complete a work placement as part of my studies. I worked with a female colleague whose official job title was PA to the HR director, but she was so much more.
"She was the person who knew everything, the person everyone looked to when they needed help, she would fight your corner, she took no prisoners and went after what she wanted.
"She got what she wanted and believed she deserved nothing less. She had everyone's respect. That was the moment I knew that's the type of person I wanted to be."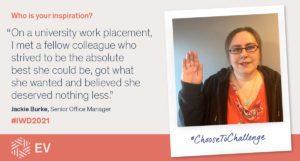 We asked advisory board member and influential female energy figure, Bettina Bachmann, what action she thinks can be taken to encourage gender balance in the private equity industry – "We need flexibility and support for men and women during those critical years raising a family!"
Bettina has held a variety of leadership roles in the energy industry, working in the Middle East, Africa and Europe, allowing her to bring expert knowledge and unique perspectives to our board.
Bettina also recently featured in our video series where we explored what it's like to be a female leader in energy. Don't miss out on these exclusive insights – head over to our YouTube now to watch.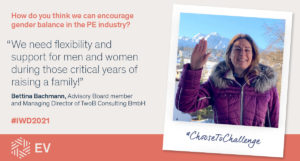 And finally, we asked Houston Office Manager, Amy Brownlie, what empowers her to do her best in her role.
"My parents are my biggest source of empowerment.  From a young age, they have always encouraged me to try anything. My dad is good with DIY, and I was always there helping him.  Now, I do a lot of the DIY around the house myself, from replacing the kitchen sink to laying a patio. I have maintained that same try-anything attitude in the workplace.
"Many of my managers throughout my career have encouraged me to try new things.  In previous positions, I was offered opportunities to develop different skills, such as project management and graphic design. Now, in my current role as office manager, @Anoop encourages me to take on more duties which allow me to become a part of the full accounting cycle.
"When the people who influence me the most show their confidence in my abilities, it really empowers me to try anything.  Everything is a learning experience, and when you have a great support system, it's hard to fail. If things don't go to plan, they are there to teach and to help guide the way forward."