Responsible investing in the energy sector
By Karem Kobayashi, Compliance Manager at EV Private Equity
This article first appeared in Energy Voice on 24/02/2020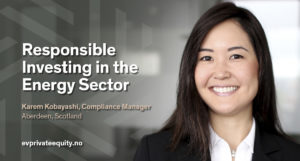 Disruptive environmental protests from activists like Greta Thunberg and groups such as Extinction Rebellion have dominated the news headlines of late, and with increased government scrutiny on corporate ethics, we are seeing a clear cultural shift when it comes to environmental, social, and governance (ESG) factors.
As ''net zero carbon' becomes the rallying cry for a world battling the existential threat posed by the climate change emergency, energy businesses have been placed in the harsh spotlight of public opinion as never before.
Yet, as the oil and gas industry undergoes radical transformation in anticipation of the post-petroleum age, it has never been more exciting. Personally speaking, as an investor in the industry, I feel energised by the huge opportunities that change is bringing.
The oil crisis in 2014, for example, was a wake-up call for an industry that had grown complacent. The plunge in the oil price brought a much-needed new dynamism, quest for innovation and increased efficiencies. It provided important learnings for many companies operating within the sector. In particular for EV Private Equity portfolio, this meant the ability to quickly bounce back, thanks to differentiated technologies focused on improving efficiency and reducing costs.
We often think of efficiency as cost savings – but efficiency also means improved HSE, less waste, less power consumption and consequently less carbon emissions – all technology-enabled.
The role of technology in transforming the industry is often underestimated but it's thanks to the most recent advancements in digitalisation, robotics and AI that the industry is now ready to move on to the next stage i.e. cleaner sources of energy. Something that was once unthinkable. You only need to look at companies like Geoteric, breaking ground in AI technology that provides a deeper understanding of subsurface data, ensuring increased level of drilling safety and maximised production revenues, to see the strides being taken.
Over the years, much has evolved with regards to investment practices, too. Although the Principles for Responsible Investment have been with us since 2006, it was only in recent years that we saw increased engagement and debate around the topic. A survey conducted by Preqin in 2018 revealed that less than half of the fund managers had established ESG practices but there was a growing number of firms looking to adopt them.
However, the growth in the UN PRI members since that time – from 2,174 members in November 2018 to 2,515 members in February 2020 – attests the rapid adoption of the principles by asset owners, investment managers and service providers.
Since EV Private Equity became signatories of the UN PRI last year and officially launched its ESG portfolio monitoring program, we went through some important learnings. There's a growing industry centred around audit, verification and impact measurement in itself. There are various frameworks to measure ESG and impact, as well as rating agencies providing information to credit providers. The complexity inevitably calls for more standardisation and direction.
We have also seen a notable cultural shift internally. I believe we can credit the success of our ESG program adoption to starting small, through an initial trial which provided valuable feedback before rolling it out more widely. Ultimately, ESG is about improving the company you work for. It's not only about revenues and profits: it's about becoming better at managing risk, encouraging ethical and transparent behaviour through fair policies, and looking after the environment, the local communities and the people who work for it.
This is a trend we are seeing industry leaders spearhead. Following the announcement that BP had acquired Fotech from EV Private Equity to leverage technology to bring it to the forefront of energy transition, the operator's new CEO, Bernard Looney, launched its net zero plan for 2050 at a summit this month attended by employees and stakeholders. His bold plans were welcomed across the board. As one employee remarked following the launch, "It's a wonderful thing when your personal beliefs and your work life come together."
BP's pledge to transform the way it operates to "create a thriving sustainable energy business that is a force for good" received a high level of praise and employee engagement, highlighting the importance of company leaders embracing strong ESG practices and taking the climate challenge seriously. At EV Private Equity we have put ESG reporting and impact measurement at the forefront of our strategy, and our leadership team are passionate about this.
Today ESG is a common topic in every board room. There are still challenges of course, in particular around data availability or accuracy. On a positive note, having gone through two reporting cycles since the introduction last summer, we now start to see some improvement in these areas.
Being at the epicentre of this change – both as a private equity firm and as an energy professional – is both exciting and rewarding. While the world still depends on fossil energy, we are contributing towards making it a cleaner and safer industry and fuelling economies through differentiated technologies. Our ESG program adds a new bottom line for companies. Not just profit and performance but principles. Together we can ensure that energy companies do well financially while doing good for the planet and its people.
Find out more about our responsible investment strategy here.