Portfolio Spotlight: Tomas Hvamb discusses Trainor growth strategy
We asked our investment director and Trainor board member, Tomas Hvamb, why the company was the perfect fit for our growing portfolio of differentiated technology investments, as well as his future predictions for the company's growth.
In July, we invested in Trainor after following the company over the course of a year, spotting the remarkable potential in its cutting edge e-learning content and platforms. Our investment will fund the business´ expansion across the Nordics, and we will focus on bringing Trainor's unique digital offering to the renewable markets, in line with the energy transition and increased demand for electrification.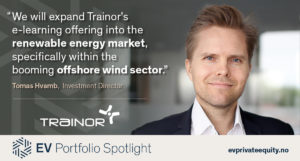 Tomas Hvamb, EV investment director commented:
"Trainor is a market leader in Norway within electrical safety training and compliance. With a strong digital platform, the business is highly scalable and well positioned to capitalise on the continued growth of e-learning as well as the ongoing global electrification mega trend.
"Trainor is a platform investment for EV, and we plan to grow the company organically and through acquisition, allowing Trainor to expand internationally and offer its exceptional e-learning offering to a global audience.
"At present, Trainor occupies a strong position in the Norwegian power & grid, marine and electricity market which will continue to grow. Looking ahead, we will expand its e-learning offering into the renewable energy market, specifically within the booming offshore wind sector. We see Trainor thriving as these markets continue to grow in-line with the global energy transition.
"As we align with the Paris Agreement and emission reduction targets, electrification will drive decarbonisation. Trainor's core values lie in its competence, continuous innovation, and drive to uphold exceptional standards of electrical safety, which will position the company well to grow in-line with international power markets and the world's journey to low carbon living."
Take a look at our full portfolio of differentiated technology investments here. 
Want more insight on leading e-learning company Trainor? Check out this blog from Kåre Vegar Sund, Trainor Creative Director here where he talks about the company's innovative learning platforms.