Portfolio Spotlight: Interview with Kåre Vegar Sund, Trainor Creative Director
In this blog, part of our Trainor portfolio spotlight campaign, we caught up with Kåre Vegar Sund, Trainor Creative Director. Kåre chats to us about his role within the company, what e-learning means to him, and how he sees the market evolving as we move further into a digital era.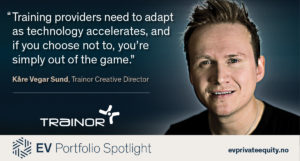 You've been at Trainor since 2014, joining as a multimedia designer and now hold the role of creative leader. In your current role, what does a typical day look like? And, what have been your career highlights at Trainor so far?
 As creative director, a typical day for me revolves around communication. I check in with my team regularly to ensure they have all the resources they need and catch up with clients on existing projects.
Another key part of my role is focussing on tomorrow. Be it the next cinematic training production, client requests or new emerging technologies, I'm always thinking forward and preparing for the next day so that the designers can work uninterrupted and continue to keep up the outstanding quality of work.
When I joined Trainor, I brought fresh ideas to the business from my background in high end commercial films, I wanted to be part of a radical change that would see the company not just deliver traditional learning, but to offer an experience that was akin to cinematic quality, and highly engaging for the learner.
Over the past six years, I have helped to build a talented team of designers who are driven by the same passion for our digital products and strive for quality across everything that they do.
I'm incredibly proud to be a part of Trainor, a company which has elevated the meaning of e-learning and is a true vanguard of learning innovation.
There are many different definitions of e-learning out there. What does e-learning mean to you? How does Trainor offer something different to the market?
E-learning carries the stigma that it is cheap and boring. At Trainor, we're trying to change perceptions by ensuring the end user is at the forefront of mind when creating all of our e-learning products.  We want to create learning experiences for our users, instead of pre-packaged online courses that fail to motivate the learner.
To battle this stigma, we're trying to capture the motivators for learning in general and incorporate these concepts into the experiences we provide. By capturing the essence of learning, we're not boring the end user, we're providing value whilst keeping them engaged.
The training industry has changed rapidly in recent decades from traditional classroom-based learning to more innovative ways of working such as digital and blended learning, a need accelerated by Covid-19. Have training providers been forced to adapt in-line with customer demand? Has this created opportunity for innovation?
Absolutely. However, this need to adapt hasn't come just from COVID-19. The modern technologies of today that have become essential to everyday life, like your mobile banking app, have been created with the end user in mind. Companies need to adapt as technology accelerates, and if you choose not to, you're simply out of the game.
If you're a training provider in the 21st century and you don't keep up with digital advances, you become obsolete. At the moment, providers are definitely feeling the pressure to adapt to this rapid digitisation we're experiencing. As the consumers of today who live in a digital era, we have developed high expectations for digital solutions and its content. Nowadays, e-learning courses need to be designed to speak directly to the end user and provide a tailored solution. A one-size-fits-all solution is not acceptable.
I do believe that the pandemic, although highly disruptive, has created opportunities for those that were not already providing virtual e-learning experiences. When COVID-19 hit us in March, we had already been providing digital e-learning solutions since the nineties. However, whilst we already had a well-established virtual platform, the pandemic did accelerate the creation of a webinar offering, which we are currently working on to provide a more engaging experience for users that transcends sitting a camera in front of a classroom.
We want our webinars to inspire people, which is why we have chosen to look into using our in-house virtual reality (VR) lab to offer users the VR experience, without the need for their own headset. We can screen share directly from the glasses through Microsoft Teams or Zoom, allowing the users to step into the VR world.
As the in-house instructor walks around a high voltage facility or offshore environment via VR, the viewers can watch and apply their knowledge to real-life situations, pointing out the safety hazards that are present. Pairing this engaging simulation with a more traditional theory session, creates a webinar experience that is far from traditional e-learning.
Methods of e-learning have changed since its inception in the 80's. Previously, simple learning management systems were adopted, but now virtual reality (VR) and 3D worlds have enabled people to learn in an immersive environment presenting real opportunity for improved learning. Why is using advanced technology in e-learning, such as VR, beneficial for the learner?
Dependent on the topic, practical training is usually one of the key components for improved learning. Typically, our target audience are not in office-based roles, instead, they are out in the field using safety tools and equipment. We aim to provide safety training for a whole host of personnel including engineers, electro personnel both onshore and offshore, electro-technical officers, chief engineers and personnel working with or in connection with electrical installations in hazardous areas.
Using VR, we can bridge the gap between computer-based e-learning and practical training, by bringing this practical experience to them virtually.  To be able to walk around in a digital representation of their typical workplace is incredibly beneficial to the users.
Aside from our VR offering, we also create linear e-learning experiences that carry the same cinematic and engaging attributes as our other products. Of course, there are a number of benefits associated with VR, but we don't believe that all content is suited to be delivered in this format. You can't just shoehorn VR into any type of content and say it is great learning for the users, the content has to be carefully produced and tailored to be delivered in that way.
As more advanced technologies are released, many providers make the mistake of going after these and trying to apply them to e-learning, which isn't always the answer.
As the e-learning market grows in parallel with technology advancement in the 21st century, many digital training platforms will be competing in this space. Can Trainor share any details of plan for further innovation? How do you see the e-learning market evolving over the next few years?
As we move forward in an age where gaming is king of entertainment, we plan to take more inspiration from its technology and content. Gamers will willingly spend countless hours playing their favourite games, increasing their skill level in an attempt to gain points on their gaming profile, which has no real meaning. People who have grown up with this gaming technology integrated in their everyday lives have created a new generation of clients for us, and we need to create experiences that engage them too.
It is evident that there are strong motivators in gaming, deriving from the participation in the content itself and the drive to constantly advance skill level. If we could harness these factors and apply them to e-learning, creating an environment where the user forgets that the purpose of the content is to learn, we could produce courses where the user is highly motivated to learn. We already have the platform and technologies; we just need to find and apply this motivator to our content strategy.
As podcasts become the norm for people with busy lifestyles, we're looking at ways we can provide learning through this method too. Observing the increased popularity of listening on the go, we're curious to see how we can translate our high-quality content to be heard through this channel of distribution. By applying theories that show repetition reinforces learning retention, we think podcasts could be the key to users receiving learning more efficiently with greater recall rates.
Looking forward, I see e-learning market content evolving from 'fast and cheap', to hand-crafted high-quality courses designed with the end user at the forefront. At Trainor, we are focussed on providing e-learning at the highest quality through engaging and cinematic e-learning experiences.
Cinema has been part of our lives for over a century and it still amazes people, unaffected by technology advances due to its timeless nature. Film will always, and has always, been an interesting way to illustrate stories, which is why we carry the same principles through to our e-learning courses.
The e-learning industry needs to shape training courses with each different user in mind. We offer many courses, each of which we could make generic to apply to all industries, but we choose to split out and adapt them to suit offshore, marine, rural and urban personnel better. The end result allows the user to receive learning in an environment that is familiar to their everyday workplace and leaves them feeling that the course has been designed and customised with them in mind.
Discover our full portfolio of technology focused investments here.