EV announces 2019 CEO and CFO of the Year
Our recent annual investor conference saw us announce our much anticipated CEO and CFO of the year!
Mark Miller of Pennsylvania-based Workover Solutions (WOS) secured the CEO of the Year accolade after fighting of strong competition from Halfwave's Paul Cooper and Aquaterra's George Morrison. Based on securing high growth in company revenue and EBITDA, and exceptional execution of the company's strategic plan, Mark, who has been with WOS for more than four years, was a fitting winner.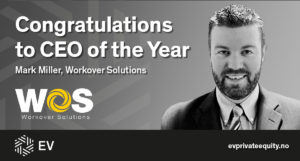 The EVPE CFO of the Year was named as David Clark of Westwood Energy Group, who pipped Gary Fonnel of Fotech and Nicola Blanshard of Geoteric to the post. David has been with Westwood for just under five years and came out top in this category based on a range of criteria including cash and banking management, handling of due diligence, quality of board reporting and his status as a trusted advisor to the CEO.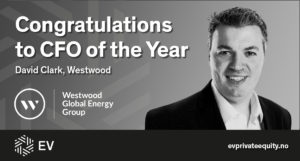 Helge Tveit, Managing Partner at EVPE said: "We're tremendously proud of the leadership team we have built throughout EVPE and our portfolio companies.
"With ambitious growth plans, entry into new markets and regions, rapid technology development and an increasing focus on sustainability high on our agenda, it is essential that we have confidence in the teams we have tasked with achieving these results.
"The selection of this year's winners was no easy task, with solid performance across our portfolio, however Mark and David demonstrated exceptional results and we were delighted to name them CEO and CFO of the Year."