EV Private Equity 2019 Annual Investor Conference
In September 2019, we hosted our Investor Conference in Stavanger and welcomed two guest speakers with different views on how climate change should be tackled. The result? An engaging discussion that carried on beyond the event and media coverage in the UK and Norway. Watch the recap here, featuring Bjorn Lomborg, Mark van Baal, and Helge Tveit as they discuss the topic that was the headline of our Annual meeting: Oil & Gas in a Net Zero World.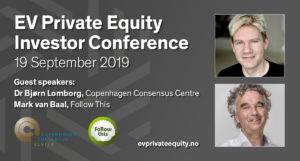 Want to know more about our portfolio of differentiated technology investments? Click here.