EV Private Equity gives back to global causes
Following the launch of the EV Private Equity Charitable Initiative (EVCI) earlier this year, we are pleased to announce a series of further donations, which will help those in need around the world.
This latest donation will see £3,000 (NOK 35,000) split between three charities located in Norway and the Philippines. The charities which will benefit include the Childhood Cancer Association (Barnekreftforeningen), the Food Center (Matsentralen Norge) and 4P For People.
As a responsible investor, supporting both local and international communities is high on our agenda. Working together to encourage positive change, as well as promoting equality and encouraging diversity and inclusion, is in-line with our wider mission to create a better world for the next generation.
Our donation to the Childhood Cancer Association (Barnekreftforeningen), an independent, voluntary, organization operating across Norway, will not only fund vital research into childhood cancer, but also allow the charity to continue to offer support to families with young people who have been affected by the disease.
Currently, the Childhood Cancer Association is spearheading over 48 fundamental research projects which are well underway. Last year, the organisation exceeded its NOK 50,000 (£4200) fundraising goal by 500%, which saw it raise an impressive NOK 305,582 (£26,000) to give hope to children fighting cancer.
Through its vast network of warehouses in Norway, the Food Centre (Matsentralen Norge) facilitates the redistribution of surplus food from the hospitality and retail industries to non-profit organizations. This eco-friendly system sees the charity support the disadvantaged, whilst also reducing the industry's environmental impact through food waste, in-line with the UN's sustainability goals for the future.
Headquartered in Manila in the Philippines, the 4P for People team are dedicated to helping combat on-going poverty in the region. They aim to create equal opportunities which enhance the health and well-being of local people, encouraging them to realise their potential. Our donation will help fund 'Rejoice Village', a community that gives neglected children and struggling families from Manila's slums the opportunity to flourish and grow in a safe and loving environment.
Trine Nicolaysen, Head of The Childhood Cancer Association, Norway, said:
"The ambition of the Norwegian Barnekreftforening is to be a considerable contributor of funds, as well as an active promoter of research into childhood cancer. Committed fundraisers and partners who are passionate about our cause are of great importance to us and our work. With the support of our partners, we are able to support pediatric cancer research today, and in the future. The support and funds from EV Private Equity, will take us one step closer to reaching our ultimate goal; that no child will die from cancer."
Tor Jan Bredenbekk, CEO at The Food Bank, Oslo, said:
"This generous donation from EV Private Equity will allow us to reach out to more organisations, making them aware of our important work and the role we play. Last year, we handed out around 320 tonnes of food, which is the equivalent to around 650,000 meals. Thank you very much for all your support and for motivating us to continue this important work."
Bjørg Åkerlund, co-founder of 4P For People said:
"We are so thankful for the donation from EV Private Equity for our work in the Philippines. We are currently facing a serious challenge when it comes to the COVID-19 pandemic. More so now than ever, support from companies like EV Private Equity is vital for us to be able to continue to offer help where it is most needed.
"Currently we are finishing a building project outside of Manila where the children we are caring for will move in soon. After being quarantined since March in Manila, the children will soon be able to run around, play outside and explore the big, green property. Words cannot explain how much this means to them. Again, thank you to EV Private Equity for supporting our mission to help the children of the Philippines so that they can have a bright and hopeful future."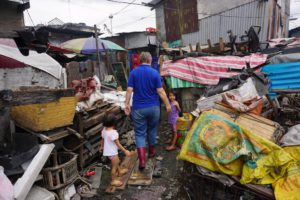 This latest round of donations follows our support of charities based in Aberdeen, Scotland, earlier this year. We donated a total of £2,000 (NOK 23,500) split across four local charities to support them during the Covid-19 pandemic. The charities which benefited included Aber Necessities, AC2U/Aberdeen Cyrenians, The New Arc and Mental Health Aberdeen (MHA).
Helge Tveit, EV Private Equity managing partner, commented:
"Our commitment to making the world a better place goes beyond our investment portfolio of environmentally, economically and socially conscious technology companies. At EV Private Equity, we are in a fortunate position to be able to give back to the disadvantaged.
"It is an honour to partner with these hard-working charities and support these worthwhile causes. We look forward to continuing to work with and raise funds for more community initiatives with the aim of making a positive impact on the planet and society."
 Keep up-to-date with the EVCI, and how we continue to work with and support local communities here and our social media.