Working together to travel 5,341km for VSA Aberdeen
As part of the EV Private Equity Charity Initiative (EVCI), we're raising money for Aberdeen-based charity, VSA, by covering the distance between our Stavanger and Aberdeen offices, taking a route passing Europe's most acclaimed attractions.  Every team member across our global offices will participate and work together to track the distance of 5,341km by either cycling, running or walking.
Staff will use the 'My Virtual Mission' app to track their distance, which also allows other, more stationary exercise to be converted. Our team will be virtually passing through and visiting some of Europe's famous landmarks including St Mark's Basilica, the Eiffel Tower, Tivoli Gardens, and Brandenburg Gate, to name a few.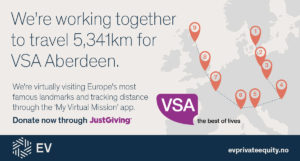 VSA Aberdeen is a social care charity delivering a range of social care services to all age groups, focussing on physical, mental, emotional and social wellbeing. The money raised will go towards the build of a state-of-the-art mental wellbeing centre in the heart of the city that will change the lives of those in need.
Due to COVID-19 placing pressure on charities, and the fact that one in three people in Scotland are diagnosed with a mental health condition each year, there is a growing demand for mental wellbeing support, specifically in Aberdeen. This new purpose-built facility will support adults aged 30+ with a range of mental health illnesses on their journey to recovery.
Greg Herrera, Aberdeen-based Senior Partner, said:
"We're thrilled to be supporting this local charity which provides invaluable support to the communities of Aberdeen during this difficult time.  We're proud to partner with VSA and to contribute to an incredibly important development in the city. By helping us reach our £1,000 target, you can help to positively impact the lives of those who may be struggling, and help them fulfil their potential."
We're hoping to raise a total of £1,000 through donations, which will be matched by EV.  You can help us reach this target by donating here. 
This challenge will be the first of three the global team will face during 2021 – keep up to date with EVCI activity on our website's news page.