Portfolio Spotlight: Interview with David Stephenson, Deep Casing Tools CEO
As part of our portfolio spotlight on Deep Casing Tools, we caught up with CEO David Stephenson to find out more about the company's international growth, 'Simple Innovation' philosophy, and award-winning Casing Cement Breaker (CCB) technology.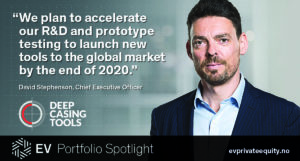 You've been Chief Executive Officer at Deep Casing Tools for almost three years now. How have you seen the company change and adapt over time, navigating through the recent covid-19 crisis and oil price plunge?
Since I was appointed as CEO, there have been huge changes in the business. The first change came off the back of the 2015/16 oil price plunge, at a time when we sought additional funding from our backers EV Private Equity and Scottish Enterprise to reenergise the business and expand our footprint on the UK Continental Shelf, the Middle East, the U.S. and Canada.
Prior to this, the business was very one-dimensional. With a limited product offering, which consisted of our turbine powered reaming systems which were performing fantastically in the field, saving clients time and cost, however recognising where the markets were heading we decided to diversify and expand into new areas of well life cycle technology.
Leveraging the funding, we identified opportunities to develop and bring new technologies to the market, as well as determining which geographies to target. Since then, we have experienced a great deal of success, which saw us increase our revenue by 600% in 2017/18, and more than double our revenue in 2018/19.
Today, the Covid-19 crisis and low oil demand has meant we have had to react again. We have taken action to increase efficiencies which has included taking our research and development, and prototype testing fully in-house.
We are in a fortunate position that the people behind the business are highly skilled, engaged and motivated, and continue to bring new ideas and clever thinking to the table.
A key element of our success to date and continues to drive our growth is our international operations.  Through our regional partners, we are working with major operators in Asia, Mexico and the Middle East.
We have secured several major contracts with the world's leading operators including a five-year contract with Saudi Aramco to supply our TurboCaser and TurboRunner tools and frameworks with others.
Looking ahead, we plan to accelerate our research and development and prototype testing. This will provide the foundation to launch new tools to the global market by the end of 2020.
I'm extremely proud of our strong team and the fact that we've managed to continue developing our technologies through this challenging time for the oil and gas industry.
During your time at DCT so far, what have been your career highlights?
Prior to being appointed as CEO at DCT, I held the position of global account manager for about a year.
This was a testing time for most working in the energy sector as we contended with the 2015/16 downturn. As a management team, we didn't want our people to sit at their desks each day waiting for bad news.
When I took the reigns as CEO in 2018 and Steve Kent was appointed as executive chairman, our focus on growth was strengthened, and reinforced by the investment, we were able to give the team a much-needed boost of confidence, and inject energy into developing new tools.
My main career highlight at DCT has been witnessing the commitment of our people who have remained with DCT since 2015, and have tremendous enthusiasm about their work and in particular, the technology we are introducing.
Deep Casing Tools is renowned for its philosophy of 'Simple Innovation'. How is this value carried throughout the development of DCT's technologies?
 For us, our philosophy of 'simple innovation' means we aren't trying to reinvent the wheel, we're just trying to make the wheel turn smoother. There are a lot of fantastic technologies that currently exist in the industry that perhaps could be refined, more efficient and more cost effective.
We identified a number of these technologies, some that support Plug & Abandonment (P&A) and slot recovery activity, and some that make drilling activity in complex wells more efficient. With these technologies, our aim is to enhance operations and add value for operators, ultimately saving clients money.
For example, in the P&A and slot recovery markets, industry has commonly used conventional methods of cutting and pulling casing for tens of years. However, these operations are not as efficient as they could be.
Our Casing Cement Breaker (CCB) tool has been designed, tested and proven to make this procedure more cost effective and efficient for operators, with early results showing that up to 90% less force is required to pull a casing following a run with the CCB. Using conventional methods, cutting and pulling casing can be a time-consuming process and increases the rig time needed to complete the job. When you look at it from an environmental perspective, using our CCB tool means less rig time, less fuel and less emissions.
It's a simple tool using simple mechanics, that makes operations more efficient, and that's what DCT is all about.
Recently, Deep Casing Tools expanded its product offering into the decommissioning and slot recovery markets with its Casing Cement Breaker (CCB) tool. What can this tool bring to industry? Why is this significant now?
Despite decommissioning, P&A and slot recovery always being around, we felt that the 2015-16 oil price drop saw an acceleration of activity and need for new technologies in these markets.
Prior to that, decommissioning was something that operators kept deferring, but after this plunge, the need for innovative tools in the decommissioning and slot recovery space came to the fore.
For the first time, we saw a considerable increase in companies in this space cutting and pulling casing, perfing and washing casing, as well as milling casing, which in the past they had tried to avoid because of the time and cost of casing milling and associated clean-up operations.
Identifying this need for advanced technologies, we developed the CCB, a tool that helps operators improve these methods.
In the slot recovery market, we identified an opportunity where the operator makes significant savings on infrastructure costs by repurposing existing platforms, well heads and templates to recover slots for side-tracking to drill new wells. Again, as a result of the low oil price, we recognised this as an area we could support.
As these were new areas for us, we brought in a number of drilling engineering experts and third-party consultants to help develop our CCB tool and drive company growth into these markets.
In addition, we were very fortunate to receive backing and sponsorship from Total and The Oil & Gas Technology Centre (OGTC) at this time. Not only was this support helpful from a financial perspective, but both parties shared valuable knowledge and industry insights.
We're confident that the CCB can bring a great deal of value to industry. It allows operators to use existing, proven methods in a cost effective and efficient manner.
After expanding into a number of global regions last year with strategic agent appointments, where are sights set now in terms of company growth and expansion?
The growth of the company last year can be put down to two things – firstly, we developed new technologies to diversify our offering, and secondly, we targeted key global regions introduce our tools.
Historically, when you look at the success of DCT, most of it has come from the Middle East and Canada.
In order to target the U.S. land market, we developed the SelfLOK flotation device, a one-use tool designed to help float liners to reach target depth more cost-effectively. Having completed a significant amount of in-house testing, we're about to start building the first prototype tools and aim to conduct field trials in Q3/Q4 of 2020.
We're also exploring the potential of signing new distribution partners in the region, which will create an on-the-ground presence. These strategic partners are important due to their local market knowledge.
Another growth area for us is the Asia pacific region. Last year, pre-Covid-19, I spent time in the region meeting with potential local partners. We made the decision to partner with EFTECH Drilling Solutions who are headquartered in Malaysia, and R&D Solutions based in Perth, Australia, and both have been highly engaging and supportive.
Through EFTECH in Malaysia, we have secured a long-term contract for the deployment of our TurboRunner tool with a major operator. We expect this success will lead to more work in the region.
Find out more about Deep Casing Tools and its suite of technologies here.