Portfolio Spotlight: Interview with Stian Martinsen, Trainor CEO
To wrap up our campaign on leading electrical safety training provider, Trainor, we caught up with CEO, Stian Martinsen. Stian talks about key e-learning industry trends through the decades, how digitisation is transforming learning experiences and more.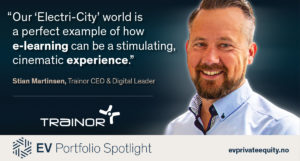 Stian, you started your journey with Trainor in 1998 as system developer, working your way up to e-learning team manager, and now CEO. During your time with the company, what have been your highlights and/or what would you consider to be the key milestones in the growth of Trainor and its digital learning platform?
I have held many roles at Trainor, but 2001 marked a major breakthrough when I was system developer. We launched our first online learning management system (LMS) for a key customer, which featured two digital e-learning courses. What made this a milestone and such a turning point for Trainor, is that prior to this, we were using floppy disks and CD-ROMs to deliver our courses. Looking at how technology has evolved today, the days where we used these storage mediums seems more like it was centuries ago.
In the early 2000's, we also launched our online discussion forum to answer any queries our users had on courses, e-learning and the wider electrical safety space. This platform was developed so our trainers can provide online support to our customers, no matter their location.  Today, this forum is heavily used by Norwegian power industry professionals with over 1.1m page views and 330,000 unique users each year, the database itself contains over 45,000 questions, providing electrical safety knowledge to our growing customer base.
It was around 2005 when I was managing a large project for a key customer operating within the oil industry. For the client to start producing oil, they had to first complete e-learning courses produced at Trainor, which placed a high level of importance on the delivery of the course packages. The successful completion of this project led to my promotion as e-learning team manager, which marked my first role as a leader at Trainor.
Despite the global economic struggles, such as the 2014 oil price plunge and recent coronavirus pandemic, Trainor has generated positive results and revenue. Our digital suite of products and regulatory mandatory courses, such as Ex Basic and Hot Work, allowed us to plough ahead and continue delivering essential learning to the electrical safety sector, in spite of the challenges.
More recent noteworthy achievements have included the sale of around 70,000 courses last year, and securing investment from EV Private Equity last month. This investment has presented fantastic opportunities for Trainor to drive growth into new geographies and sectors, specifically within the renewable markets, which is aligned with the world's shift to a low carbon economy.
Today, we are living in a digital era which is transforming the way we work and learn. With digitisation on the rise across all sectors, companies need to adopt these innovative ways of working and switch their strategies from traditional to digital. From a training perspective, what are the benefits for individual learners and employers from using a digital e-learning platform like Trainor's?
Users remain at the forefront when we develop new products, which is reflected in the ease of use across our LMS and all of our e-learning courses. At Trainor, we have an in-house user experience team, who are dedicated to creating thematic learning experiences with optimum usability.
By prioritising e-learning integrations within client human resources (HR) systems, we make it simple for course administrators and participants to book and start courses, check on the course status, and obtain certificates and reports that can be transferred to the HR departments for record keeping upon completion. In addition, we provide several third-party courses, creating a one-stop-shop for HR teams and individuals to maintain the essential skills required for their real-life roles.
E-learning has many direct benefits for the learner and the wider world, including reducing the carbon footprint as it removes the need for travel to attend physical learning courses, as well as the cost savings associated with travel with the need removed for trains, flights and accommodation.
It also provides an improved learning experience. In our linear and 3D world based courses, we tailor the e-learning content to provide bespoke solutions for the user, based on their day to day working environment. This bespoke learning programme is incredibly beneficial to the users and has been received well by our clients. It allows them to relate and apply this new, theoretical knowledge to their current role with ease.
For people that experience difficulty reading and writing, or require additional support when receiving educational information, e-learning allows them to repeat certain sections of the course if required, which can be completed anywhere, at any time.
Whilst e-learning holds many benefits, its most important may be its ability to engage the learner. E-learning has come a long way from traditional PowerPoint methods, now replaced by courses that inspire users. Our 'Electri-City' world is a perfect example of how e-learning can be created as a stimulating, cinematic experience, whilst still providing the learner with vital skills and knowledge for the future.
Since the 80's, Trainor has delivered professional training services and digital solutions to the domestic, abroad, offshore and on land workforce. Launching its first course in 1996, Trainor was among the first players in the e-learning market. What are the key trends that you have seen in the demand and quality of safety training throughout the years?
In the 90's, we faced e-learning sceptics, which was due to the public's low IT competence. The internet itself was a relatively new concept, let alone learning via the worldwideweb. During large technological shifts, or around change in general, we as humans tend to feel uneasy, which is why the public took a bit of convincing to accept e-learning as a concept.
During this era whilst providing practical learning to our customers, we also faced the challenge of participants being unable to meet us to receive advice, a problem that was met by the creation of our discussion forum which could be accessed through the internet.
As each decade passed, the general public become more experienced in IT and adopted computer-based programmes for work and home life. The 2000's brought the launch of smartphones, tablets and quicker internet connection. In this period, we found that there was a wider acceptance in the concept of e-learning, and a shift in customer focus towards lower cost training.
In 2017 we launched our revolutionary e-learning platform 'Electri-City', a 3D world developed with game-like principles where the learner can immerse themselves in life-like situations that present electrical hazards. We believe the future of e-learning will involve platforms and courses such as these, due to greater learning results from the participants.
Over the past two years, we have been placing an even higher focus on digitisation. We're working hard to develop innovative courses that utilise new technologies, such as VR, and capture the essence of learning whilst providing engaging experiences.
One of Trainor's many unique offerings is its 'Electri City' virtual world, which gives users the ability to learn how to make the right decisions and risk assessments in a life-like simulation game. How was this impressive platform developed? And, what feedback have you received from learners who have used it?
This platform was developed in-house by our 3D and game developers. The idea came to us after we received feedback from some participants that the visuals in our digital courses didn't match real-life scenarios accurately. An example of this would be the wrong personal protection equipment (PPE) such as helmets, gloves or other equipment being featured. Historically, the process of updating these visuals meant re-visiting the site, taking the new images needed, and then uploading them to the course platform.
These edits were time consuming and labour intensive, and meant digital platform couldn't be updated quickly. We began to think: could we use a gaming engine to host these courses? Would this allow us to efficiently alter each element if needed, and add new courses to the platform? By taking inspiration from the gaming industry, we started to develop a virtual world allowing us to replicate electrical hazards that the participants would find in their real-life work environment, providing an accurate depiction of an electrical safety scenario. These impactful courses can be delivered in a shorter amount of time due to their highly informative nature, providing a short burst of learning that feels like a movie or a fun game.
We've adapted the way we deliver our courses because the today's younger generation expect this advanced level of e-learning with realistic, high quality graphics. Growing up with constant access to a broad range of technologies and digital platforms, that are ingrained into their everyday lives, has made PowerPoint and traditional training unfavourable.
The feedback we have received from users of 'Electri City' has been extremely positive, with participants describing it as a highly informative and engaging platform, complete with helpful illustrations and great graphics that accelerate their learning. We aim to deliver the highest quality digital training on the market. With our driven team, extensive range of courses and glowing customer feedback, I believe we are doing so.
Trainor is already a strong digital training provider, well established in the energy and utilities sectors through its cutting-edge courses and e-learning platform. With e-learning expected to grow by 80% from 2017 to 2023, and electricity demand expected to increase by 68% from 2016 to 2040, where are sights set in the future for Trainor? Is Trainor well positioned to support the need for socially distanced learning through Covid-19 and beyond? How will the support of EV Private Equity support your growth plans?
Our courses are available on all platforms, online or offline, which positions us well to support the needs of learners throughout the coronavirus pandemic. At the moment, we are working on a way for participants to receive practical training from their own homes, a need driven by coronavirus as many offices remain closed. One such solution we are looking into is HoloLens, an innovative technology projects interactable holograms.
As experts in electrification, with high quality courses available, we are perfectly suited to provide training support alongside the growing electricity demand.  With EV Private Equity's support, we plan to expand into the Nordics and the UK with our large e-learning portfolio, webinar solutions, third party courses and VR offering.
This support, coupled with EV's expertise in growing global companies to achieve their objectives, we believe great things will come as a result of the recent investment.  EV's team have a strong drive and are focused on supporting Trainor's growth. Their experience and knowledge of the sector is unrivalled, and as such they are real assets to our board.
Find out what attracted us to invest in Trainor here. 
Want more insight from the team at Trainor? We also caught up with Kåre Vegar Sund, Trainor Creative Director, to hear is thoughts on e-learning as a concept, and how he sees the market evolving as we move further into a digital era – read the full blog here.