Portfolio Spotlight – Tomas Hvamb on ROMAR International's growth and success
As part of our portfolio spotlight on ROMAR International, we caught up with our very own Tomas Hvamb, who plays an active role on the ROMAR board. Tomas shares his thoughts on the stellar growth made by ROMAR so far, and what the company is doing to reduce the oil and gas industry's impact on the environment.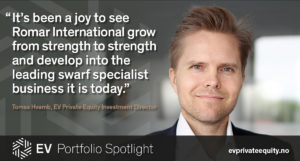 Q1. How have you seen Romar grow over time and how has the EV team supported Romar on their journey?
After the acquisition by EVPE 2014, a new super management team was added to the business and tasked with delivering the company's growth strategy. EVPE, in conjunction with the leadership team, leveraged its experience and track record to structure the sale and BD processes, internationalise the company and become the supplier of choice for operators and leading OFS companies.
It's been a joy to see the company grow from strength to strength and develop into the leading swarf specialist business it is today, with a truly global customer base. A real testament to the whole Romar team!
Q2. Can you tell us about the ROMAR product portfolio and what makes it so special?
Romar's products are developed to make milling and drilling operations safer, cheaper and more environmentally friendly. Plugging and abandonment operations have, historically, been a slow and painful job for operators. Romar's Swarf Handling system reduces the risk of rig downtime, equipment damage and decreases the number of rig days needed, making it easier for operators to make the decision to abandon a well and comply with environmental regulations. 
Similarly, metallic contamination is prevalent through the mud cycle, which is damaging for equipment and unsafe for crews as it is often manually removed. Romar's EZ-Clean magnetic separation systems deal with these issues with a lightweight, compact and easy to install system, which removes the manual work, keeps crews safe, and ensures the mud delivered to each new drilling operation is clean.
The Packer Management System completes Romar's product portfolio. While rig crews usually had to rely on visual monitoring of the slip joint and manual activation of the backup seal, the PMS has fully automated this work and prevents highly environmentally damaging spills. 
Q3. Since last year, EV Private Equity has been developing its ESG programme, underlining its commitment to responsible investing. As the world moves towards greener sources of energy, what role does Romar play in the energy transition?
As wells become older, plugging and abandonment operations will be more and more important for the oil and gas industry. It is companies like Romar that can ensure this process is carried out in the most environmentally friendly way, while keeping crews safe and saving operators money that can be re-invested into renewables and other greener energy sources.