EV Private Equity unveils senior partner promotions
Global technology investor, EV Private Equity (EV), has announced the promotions of Espen Strøm and Tomas Hvamb from Partner to Senior Partner.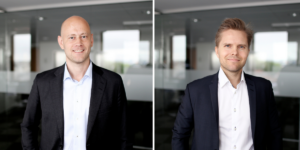 This series of appointments demonstrates the firm's continued investment to strengthen its global team's professional development and further cements EV's commitment to helping shape technologies for the next generation of energy. It totals EV's promotion count to four so far in 2022.
As Senior Partners, Espen will continue to lead EV's efforts related to origination, while Tomas will continue to head up the firm's stewardship efforts.  For over a decade at EV, both professionals have specialised in high-profile transactions, portfolio growth strategies, and exit planning.
Helge Tveit, EV Managing Partner, welcomed this round of promotions:
"Investing in our people is central to EV's success. Developing a specialist team supports our strategy to grow our technology-focused portfolio into world-class leaders in their technology domains, and continue delivering exceptional returns to our investors.
"I'm proud of the abundance of talent in our team, which enables us to recruit from within the organisation. I congratulate Espen and Tomas on their well-deserved promotions, and look forward to supporting them as they continue to develop their careers at EV."