Duo of promotions at EV Private Equity
EV Private Equity (EV) is delighted to announce the promotions of Rajat Maheshwari and Lars Sund.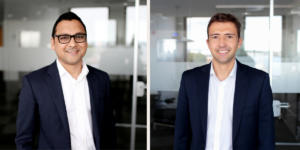 Aberdeen-based Investment Manager, Rajat Maheshwari, has been appointed as Investment Director. In his new role, Rajat's responsibilities will span the entire investment cycle, including originating and executing new deals, leading stewardship of portfolio companies and managing exits. Rajat´s promotion is a result of his substantial contribution to our organisation and dedication to our objectives.
Based in our Stavanger HQ, Analyst Lars Sund has advanced to Associate. Joining us as an Analyst Intern in January 2021 before becoming a full-time Analyst, Lars' responsibilities are focused on identifying and screening potential investment opportunities, including quantifying ESG impact, conducting and leading valuations, and creating fund-level financial analysis. Lars's promotion reflects rapid growth in his knowledge and understanding, and his ability to deliver high-quality work.
Helge Tveit, EV Private Equity Managing Partner, commented on the promotions: "At EV, we're focused on cultivating a culture where employees are recognised for their hard work to drive the company forward. We're proud of our highly skilled team of energy transition investment experts and value their shared passion for creating sustainable impact through technology.
"Over the past seven years, Rajat has proved instrumental across all aspects of our investment strategy, meaning he is extremely well-placed to deliver as EV's Investment Director. Joining us as an Analyst Intern after pursuing his degree, Lars has made significant progress as a finance professional, and I'm looking forward to seeing him excel even further over the coming years."