EV Private Equity shortlisted as ESG Investor of the Year
EV Private Equity has been shortlisted as a finalist for Business Green's 2021 'ESG Investor of the Year' award. We're honoured to be part of this coveted shortlist, comprising the UK's very best ESG orientated investors.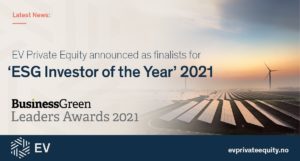 At EV, we're extremely proud of our ESG-led investment approach and portfolio reporting programme. We believe it's vital to acknowledge our shared humanity and the global challenges we face, including climate change. We remain true to our traditional Norwegian concept of dugnad – working together to achieve common goals for the greater good – a core value for the future energy world of tomorrow.
But to achieve ambitious emissions reduction targets, complacency is not an option. We actively track the development of new practices and standards, continuously bolstering our ESG programme to improve our role as a responsible investor and ability to deliver a sustainability focused investment strategy. 
Einar Gamman, Senior Partner and Impact Lead at EV, welcomed the announcement: "This nomination is testament to EV's strong commitment to supporting the world's shift to a low carbon future. We pride ourselves on upholding the highest standards of ethics and conduct, promoting investment based on solid foundations, deeply rooted in ESG."
Part of the Net Zero Festival, BusinessGreen Leaders Awards celebrates the achievements of businesses and companies advancing the energy transition, while pushing green business principles and clean technologies firmly into the mainstream. The winner will be announced on 22nd September in London.  
Discover more about our ESG programme in our 2020 Sustainability Report here.