EV Private Equity, Shell Ventures and SWEN Capital Partners launch consortium to accelerate energy efficiency solution, Noova
Global sustainable energy technology investor, EV Private Equity, Shell Ventures and SWEN Capital Partners have launched a consortium to drive the growth of energy software solution company, Noova.
Established in 2005, Noova's Logic software suite enables B2B companies to become 'energy smart' by analysing electricity use and identifying actions to improve energy consumption. Headquartered in Ålgård, Noova operates primarily in Norway but is currently expanding its offering to Sweden, with future potential to export globally.
Within the EV Private Equity-led consortium, the companies will work in partnership to facilitate growth in the business, strengthen its product offering and advance international expansion. Together the consortium will own 51% of Noova, with the rest being owned by Noova management and its founders.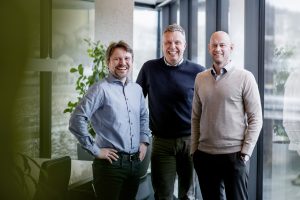 Espen Strøm, EV Private Equity Partner, said:
"We have been following Noova closely for a number of years and have been impressed by its achievements. Against today's volatile energy backdrop and net zero targets, Noova's cutting-edge technology has the potential to transform B2B operations by providing opportunities for businesses to reduce emissions and energy costs.
"Noova's strong value proposition and an exciting technology platform provides a springboard for future growth and the opportunity to become a leader in this space.
"As passionate investors focused on the decarbonisation of the energy sector, EV Private Equity is looking forward to collaborating with the management team at Noova, Shell Ventures and SWEN Capital Partners to enhance and extend Noova's software offering."
Even Gjesdal, Noova CEO said:
"For the past 15 years, Noova has grown exponentially, particularly in recent years due to increased focus on energy efficiency and climate change. We're already enabling energy savings for our current customer base, and we truly believe our software suite has the potential to provide a real solution in today's energy crisis.
"We already have excellent knowledge of EV Private Equity, and they know us. It was essential to cooperate with a company close to our markets. The EV Private Equity team has broad experience in energy, sustainability and technology."
"I look forward to continue working as CEO with this newly formed consortium of international energy players on this exciting new chapter for the business."
Diego Aponte, SWEN Capital Partners Managing Director, said:
"We are thrilled to be part of this exciting venture. Noova and its management team have built an impressive platform in recent years, enabling clients to have more control and transparency over their electricity usage.
"With collaborative support between SWEN Capital Partners, EV Private Equity and Shell Ventures, we are convinced Noova can further develop the platform to become the leading green electricity provider to SMEs in Norway and accelerate its international expansion."
Peter van Giessel, Investment Director at Shell Ventures said:
"As a leading power market, Norway is setting an innovative example when it comes to sophisticated customer value propositions. Noova's proprietary digital platform effectively enables their customers to actively manage their consumption and reduce their energy costs.
"We look forward to being part of Noova's journey to accelerate their growth domestically as well as internationally."
Discover more about our investment portfolio here.