EV Private Equity offsets 5,000kg of plastic from our oceans
The ocean has been described as Earth's 'life support'. We rely on it to regulate our climate, absorb CO2 and provide a source of food for our growing population. Producing as much as half of the world's oxygen and storing 50 times more carbon dioxide than our atmosphere, the ocean is a critical component to holding our planet in balance. It's therefore imperative that we minimise our impact on the ocean's ecosystem as part of our work to tackle the climate and nature emergency.
One of our ocean's biggest threats is plastic. Currently around 12.7 million tonnes of plastic ends up in the ocean each year, and the environmental damage is quickly becoming irreparable. Marine wildlife has suffered with 1 in 3 fish caught for human consumption containing plastic, and more than 1 million seabirds and 100,000 marine animals dieing from plastic pollution annually.
As an investor focused on sustainability for future generations, one way in which we are playing our part is by supporting Plastic Bank. This life changing initiative diverts plastic from the ocean by paying individuals in local communities a premium for the plastic they collect, creating a regenerative and circular plastic economy.
Money earned by the plastic collectors can be used to to help them provide basic family necessities such as groceries, school tuition, and health insurance. The plastic is reborn as Social Plastic® which is reintegrated into products and packaging. This creates a closed-loop supply chain while helping those in communities most affected by it.
To help fund this programme, we have made a donation of $2,750 which will offset 5,000kg of plastic (the equivalent of 250,000 500ML bottles). This contribution will help improve lives in coastal communities  across the globe while building strong recycling ecosystems that aid the reprocessing of materials for reintroduction into the manufacturing supply chain.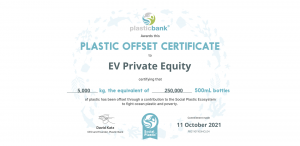 Karem Kobayashi, EV Compliance Director, commented on this donation:
"We are very proud to support Plastic Bank. The work that they do to remove plastic from the oceans, support local communities and produce Social Plastic® is unparalleled and vital for our future as a society. We remain committed to supporting causes that help protect biodiversity and promote a sustainable economy, whilst improving lives and tackling poverty around the world."
Through 500 active global locations, Plastic Bank has so far recycled over 31 million kg of plastic this year. Both individuals and companies can support this iniative through the Plastic Bank website from as little as $20. Click here for more.
Discover how else we're forging a sustainable society through responsible investing here.