Portfolio Spotlight: Deep Casing Tools Delivers 30,000 Tonnes of Greenhouse Gas Emissions Savings
Our Senior Partner, Greg Herrera, shares his insight on Deep Casing Tool's innovative TurboRunner and TurboCaser tools, looking at how they fit into the EV portfolio, and what benefits these technologies bring to both the economy and environment.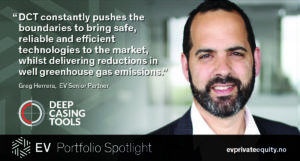 EV Private Equity first invested in Deep Casing Tools (DCT) when the business was more or less a start-up, shortly before the company applied to patent its turbine powered reamer tools.
These technologies, trademarked under TurboRunnerTM and TurboCaserTM, ensure the successful landing of casings and completions to Target Depth on the first attempt, resolving age-old downhole problems and related issues around formation, fluid, and hole stability.
The TurboRunnerTM and TurboCaserTM tools help overcome failure to land casing on the first attempt, which reduces costs and time overruns. Repeated well failure, which is regretfully still common across the industry (including re-runs, sidetracks etc.), can potentially kill well economics.
Since our initial investment, DCT has sold c.1,000 tools worldwide, based on its solid track record of successfully eliminating risk and unplanned cost for its global customer base.
An excellent example highlighting this saw a client make close to $1million in rig time savings when DCT delivered successful completion first time with 100% reservoir and production access, using its TurboCaserTM.
Along with many other energy businesses within our portfolio, DCT represents a company that is constantly pushing the boundaries to bring safe, reliable and efficient technologies to the market. It does this whilst also producing material reductions in net well greenhouse gas emissions through rig time savings by landing casings on the first attempt.
Over the years, EV Private Equity has developed a robust Environmental, Social and Corporate Governance (ESG) programme, which underlines our commitment to responsible investing.
Our focus remains on promoting best in class ESG practices and performance, which sees us combine financial performance with sustainable, ethical principles across our entire portfolio. We firmly believe that businesses who care about the environment and society also create a commercial advantage as businesses increasingly look to partner with others based on their ESG position.
The use of DCT's TurboCaserTM and TurboRunnerTM tools have proven economical and ESG benefits on global well operations. The results are clear; we believe DCT may have already assisted in saving c.30,000 tonnes CO2e of greenhouse gas emissions to date.
Find out more about DCT's suite of simple yet innovative tools by visiting their website.