Creating Value Through Active Stewardship
By Rune Jensen, Senior Partner – Stavanger, Norway
Value creation in private equity has historically been perceived as a form of financial engineering based on an investment philosophy of "quick in – quick out". However, in recent years the focus and reputation of the PE industry has shifted to stewardship and actively helping portfolio companies improve their strategic positioning to grow revenues and margins. EVPE has long championed such robust, active stewardship with its portfolio companies, creating sustainable value for all stakeholders in the process.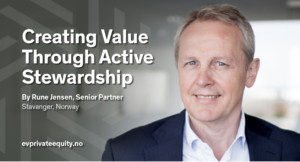 Stewardship is hitting the headlines. In the quoted company sector, the focus of stewardship is on driving a culture of engagement that leads to sustainable and long-term corporate value. It seeks to avoid the hit-and-run mentality of favouring short-term returns over all other considerations.
In many ways then, the ideal approach to which fund managers aspire is exactly the kind of relationship that we at EVPE already have with our portfolio companies: we have a track record of taking a very hands-on, supportive and long-term approach to active stewardship and nurturing our companies. We actively help them into a better strategic and operational position, creating strong growth and profitability.
EVPE's wider mission is simply to create value for all our stakeholders: for investors in our funds; for fellow shareholders in our portfolio companies; for the global oil and gas industry; and for society as a whole.
While investors are rewarded by high internal rates of return, the energy industry reaps the rewards of new products and services that improve performance, lower cost and reduce risk. The substantial societal benefits include improved HSEQ (health, safety, environment and quality), additional tax generation and a reduced carbon footprint from the new technologies and processes that we help grow globally.
Given the renewed focus on active shareholders, I'd like to share some insights into our stewardship activity in what we define as growth companies. In the past, EVPE has also enjoyed success in early-stage venture companies, but our current focus is in the even more successful growth sector (and what some call small-cap buyout). For us, these are fully operational companies with products and/or services that already generate profits, but which have significant untapped potential for growth.
The cornerstone of our stewardship activities is the "Stewardship Plan". The Stewardship Plan builds on the ambition level for the company growth that is defined and agreed as part of the acquisition process. Determining the scale of the ambition upfront is essential: the resource planning required to double the size of a company organically over 4 – 8 years differs greatly from that needed to achieve tenfold growth through organic growth and acquisitions over the same period.
In planning the objectives, strategy and actions, we concentrate on identifying key areas for differentiation and competitive strength that will enable portfolio companies to become global winners within their chosen niches. Identifying gaps that need to be filled to reach our ambitions is crucial.
Often, we bridge such gaps by drawing on the skills and experience in the core EVPE team and in our extended network. The EVPE teams in Stavanger, Aberdeen and Houston, supported by our operating partners and advisory board members across all the global energy hubs, are recognised industry experts with deep insight and connections that we make available to our portfolio companies. Crucially, as part of our stewardship offering, we do this for free.
Given our investment focus on companies that are already successful but which have huge untapped growth potential, our main aim is accelerating growth in revenues and margins. This growth is predicated on selling more of the right products to new and existing clients in new and existing markets. The boards and executive teams must prioritise strategies that will deliver on this growth model. 
Sometimes the acquisition of an existing company is the most efficient and cost-effective way to enter a new market. EVPE's experience and capacity for handling such add-on transactions – from target identification to successful integration – is a boon for busy executive teams who are fully employed with the day-to-day running of the existing business.
Many entrepreneurs have managed to build good companies with a strong foothold in their local market. They have developed technologies and products that could be of value to clients worldwide. But they lack the financial resources, network and competence to go global on their own. We look for such companies. We are global and we help these entrepreneurs realize their dream of becoming global players through organic and acquisition-driven growth.
Our stewardship helps build world-class companies – find out more about our portfolio here.