Portfolio Spotlight – Interview with Sean Burrows, ROMAR's Lead Workshop Technician
Working on the frontline of ROMAR International's product delivery is Offshore/Lead Workshop Technician, Sean Burrows.  Sean originally joined the ROMAR team when he was just 18 years old and is a much -loved member of the team due to his good nature and great sense of humour. Sean is responsible for the operational maintenance and installation of ROMAR's Swarf Handling technologies and takes great pride in his work. We asked him why ROMAR?  This is what he had to tell us;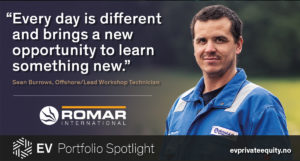 Q1. What makes ROMAR International a great place to work?
Every day is different and brings a new opportunity to learn something new.  It's a bit of a family atmosphere, and with us being a relatively small team, you get to know each other personally, rather than just the usual 'colleagues' relationships I experienced elsewhere. It also means everyone is ready to pitch in and help out where needed, so it's a very supportive environment and we all get to know a little bit about what everyone else does too.  
As a global organisation, I get to travel a fair bit. I enjoy visiting new places, meeting new people and seeing how other organisations work, but the best bit for me is seeing how our products make a real difference. Without our systems, it's a bit like going back to the dark ages of manual labour and it's great to see how safe, and efficient our products are in action in comparison to the old ways of doing things.
Q2. Since joining ROMAR, what has been your greatest achievement?
My greatest achievement would be my recent promotion. I was recently promoted to lead workshop technician, which has allowed me to gain new experience, as well as the new positon opening up new avenues to assist the team more and learn new skills. It's been an interesting few months with Covid-19 measures in place company-wide, but the company responded well and I have enjoyed rising to the challenge of my new role.
Q3. Why did you decide to join the energy industry?
I always wanted to join the energy industry. My grandfather was a Chartered Engineer, who earned his stripes in the Navy and on the railways before moving into the oil Industry and we spent a lot of our time together building things.
Hearing and seeing first-hand what the industry had to offer two generations of my family, I decided early on that the variety of challenges and knowledge each sector can provide was something I wanted myself. ROMAR provided me that opportunity and I am very grateful to be here.
You can find out more about ROMAR International here.
What other companies are in our portfolio? Check them out here.