Portfolio Spotlight: Meet Mark Brownless, Geoteric Geoscientist
In this blog, Chief Geoscientist Mark Brownless, at Geoteric, shares his thoughts on how bringing science and technology together can tear up the rule book when it comes to seismic interpretation. 
A key step at the beginning of any project is identifying risk and putting measures in place to mitigate it. For some projects to be sanctioned, a deep subsurface understanding of reservoirs is essential to prove that it is a sound investment. This can often mean detecting faults that may delay progress or freeze the project all together.
Thanks to recent innovations, including the world-leading AI Fault Interpretation Service, developed by EV Private Equity portfolio company, Geoteric, companies are now looking to innovative technology to influence and support their investment decisions and geological interpretation.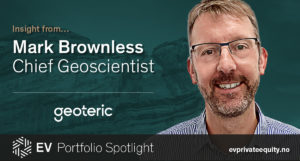 Can you tell us a little about Geoteric's service?
Geoteric is a leading AI software and services provider with tools designed to maximise subsurface knowledge.  Our AI solutions analyses data in a fraction of the time compared to other methods, to identify problems early on, mitigate risks and ultimately, driving greater efficiencies across workflows. 
Together with our traditional best-in-class seismic attribute and interpretation workflows, Geoteric is redefining subsurface understanding through a data driven, AI powered workflow. 
Without the AI software, what other methods can be used to carry out fault detecting attribute analysis?
Traditionally, fault detection practises require lengthy human interpretation time, which in some instances could take months! This delay in analysing the data directly affects the time to sanction a project, which has significant impact on costs.
How does Geoteric's AI software overcome the problems you've mentioned?
Our data from surface to depth approach unlocks resources which may have been considered unattainable or undiscovered when using human interpretation to analyse the data – all in a matter of days!
Our revolutionary idea of leveraging the prowess of AI in the seismic interpretation workflows helps companies make better-informed decisions by improving the quality, speed and understanding of the Earth's subsurface data.
The Geoteric's approach allows monotonous tasks to be automated, and therefore geoscientists are free to concentrate on understanding the story of the subsurface.
What makes Geoteric's service stand out?
We have over 30 years of experience introducing ground-breaking technologies to the market. Our AI platform not only has the ability to produce striking imagery showing the subsurface like you've never seen before, the vast knowledge and expertise of our team of geoscientists provide the real value.
Geoteric has been an EV Private Equity portfolio company since 2010. Discover more about our portfolio of technology investments here.