Portfolio Spotlight: Interview with Geoteric Research & Development Director, James Lowell
Graduating from the University of Durham with a PhD in medical image processing, James Lowell is now at the forefront of uncovering geological discoveries, specialising in creating innovative technologies for Cognitive Interpretation at Geoteric.
Geoteric thrives on three elements: science, technology and its people, whose expertise is key to uncovering the earth's geological stories.
Here, Research & Development Director, James Lowell, chats to us about his role within Geoteric, key career milestones and exciting plans for the future.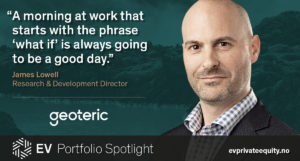 What makes Geoteric a great place to work?
At Geoteric, we all share a common goal and desire to create exciting technology that meets the ever-changing demands of the industry. The nature of the work attracts a high calibre people from a range of backgrounds. This creates an environment that encourages curiosity and innovation. A morning that starts with the phrase 'what if' or 'I was thinking' is always going to be a good day.
We believe that everyone's opinion is of value, and we embrace the diversity of skills within the company from geoscience, data science, mathematics, AI, through to software engineering.
With interesting and challenging problems to solve, we support each other to find new ways of doing things and provide our customers with the insight to optimise their assets. 
Since you've worked there, what have been your greatest achievements?
Recently, I helped create Geoteric's cutting edge deep learning AI Fault Interpretation. Following the release of this service in June 2019, we continue to receive feedback from customers, both old and new, who testify the impact that AI-driven results have had on their subsurface understanding.
Over the last decade I have been involved in a number of customer collaborations and consortiums.  This has led to a series of industry firsts such as Geoteric's data driven Adaptive Geobodies™ tool that used machine learning technology to flow through n-dimensional data to segment geological features of interests.
What's your favourite aspect of your job?
Developing and investing in high-end technology can be the step change required to continually improve efficiency, productivity and safety in the energy industry.
I have the pleasure to work with extremely gifted researchers from different domains to design and prototype disruptive technology to advance geoscience understanding of the Earth's subsurface using the latest image processing and machine learning techniques.
I am fortunate to work within the research team to brainstorm and channel ideas. Another real buzz is seeing the research concepts evolving into a commercial product by Geoteric's team of highly skilled software engineers.
Over the last few years I have also been on the technical committee of machine learning workshops that provide a platform to share knowledge across the sector. 
What exciting plans are coming up for you / Geoteric?
You only need to look at the technology we use in our day-to-day lives to see AI is more than just automation; a user-driven AI experience is key.
Geoteric has redefined the joining of people, science and technology. Our AI Fault Interpretation Service is just the beginning.  
Having already developed a people-centric AI platform which liberates geoscientists from small monotonous tasks, we continue to work on AI technology that will release information locked in seismic and derivative volumes.  As our AI technology grows, geoscientists will have the ability to to understand the Earth in new ways. 
Geoteric has been an EV Private Equity portfolio company since 2010. Discover our full portfolio of technology investments here.