Portfolio Spotlight: Interview with Aquaterra Energy Technical Director, Stewart Maxwell
Our latest portfolio spotlight campaign saw us lift the lid on life at Aquaterra Energy, the offshore specialists. We spoke to Aquaterra Energy Technical Director, Stewart Maxwell, to find out what a typical workday looks like for him in lockdown.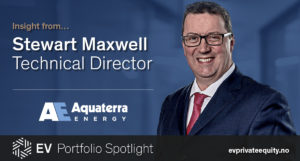 Can you tell us what your role as Technical Director usually involves on a day-to-day basis? Is there a specific part of your role you enjoy the most? Has there been any changes to your role since the nation began working from home due to Covid-19?
As you would expect from my job title, a great deal of my work has a technical, problem solving bias.
I also spend a large part of my time on business development, looking at where we as a company can expand and improve our offering, both in terms of product and geography.
Since the Covid-19 lockdown my meetings have been held online. Luckily adapting to this has been easy for me as the company had already been moving to an Office 365 and Teams based system. It just forced us to learn how to use the software faster than planned.
I do enjoy the fact that my commute to the office now takes 30 seconds rather than 30 minutes. As I live in the country outside Norwich, I am benefiting from working with the doors open enjoying fresh air and great views, (but this does mean that my calls are occasionally interrupted by the sounds of the pheasants in the garden, or by the less than delicate footsteps of my two teenage sons in their never-ending search for food!)
What is your favourite part of your job?
One of the features of my job that I do enjoy most is the variety, which results in most days being different to a degree.
As a typical engineer at heart, I have to confess that I do get my greatest pleasure from solving problems, and seeing the solutions being put into practice.
You have worked at Aquaterra Energy as Technical Director for just over seven years now and have extensive experience from analysis on riser and conductor systems, to field development planning for marginal developments. Has there been a project or innovation you have worked on that has stood out to you?
There are two areas in particular that I am proud to have been involved with.
The first is from early in my career when I was working on the design and analysis of conductor systems for jackups. At the time, many HP-HT developments in the North Sea were being drilled both in open water and over platforms, and the analysis highlighted that there could be problems and potential overloads of key equipment in the system which could limit the ability to drill the wells.
My team developed different well configurations and tensioning approaches that maximised the allowable offset of the jackups, maintaining uptime and allowing the wells to be drilled in a more cost-effective manner. The analysis approach is still being used in wells today, which is a great to see.
The second would centre around conductor supported platforms. I have been involved in projects using this type of structure for nearly 15 years. When I was first involved with them, I thought that they were novel, exciting and a great way to develop an oil field quickly and cost effectively. A decade and a half later and I still feel the same way.
Your primary focus is the Sea Swift Platform, an adaptable, modular conductor supported offshore platform. Could you tell us a bit about this product, what makes it unique to the market, and stand out from traditional offshore platforms?
The Sea Swift Platform replaces the large jacket that would be used in conventional developments with one or more smaller modular structural supports, and the well conductors themselves are used to support the topsides.
On the topsides themselves, we look to provide all of the functionality you would expect, with a focus on control from the host platform or shore to minimise the need to travel to the platform.
A Sea Swift platform will typically use less steel than a conventional platform, but the real benefits are in the way it provides flexibility to a field development by avoiding the need to mobilise large, expensive, installation vessels and instead perform the installation using either the jackup alone, or with smaller crane barges. One of our key goals on any Sea Swift project is to perform the installation using only the infrastructure that has to be in place for the project, this is typically the jackup and its support vessels. This allows the work to be performed in a cost-effective manner, whilst also reducing the overall carbon footprint of the project or removing all unnecessary mobilisations and demobilisations.
The modular approach and overall reduced weight of the platforms also allows them to be fabricated quicker than a conventional platform and in smaller fabrication yards. This is a benefit both when the market is busy and the larger yards are occupied, and in quieter times where the fabrication can be split across multiple yards for either political or economic reasons.
Find out more about Aquaterra Energy here.
Discover our full portfolio of technology-focused investments here.