Portfolio Spotlight: Interview with Aquaterra Energy Managing Director, James Larnder
We are coming to the end of our Aquaterra Portfolio Spotlight campaign, and we thought who better to speak to than James Lardner, Aquaterra Energy Managing Director, to find out more about the company's achievements and exciting growth plans.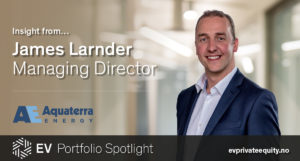 You have been at Aquaterra Energy for 15 years, working your way up from Senior Project Engineer to Managing Director. What have been your career highlights so far?
There have been many highlights, the first was undoubtedly being part of the founding team of four people that originally started Aquaterra Energy back in 2005.  It was an exciting new venture that experienced successes from the outset.
We worked hard, over many long hours, to secure some major contracts for our Sea Swift Platforms, as well as investing in and growing a number of other core product offerings focused on the jack up drilling market, which saw us build a good track record and reputation for excellent customer service. 
Another highlight was being promoted to the board in 2008 as Projects Director. At this time, we continued to develop our HP Riser System offering investing capex into new systems, which included launching a 10K Drilling Riser, a world first innovation. We were also supplying the deepest Sea Swift Platform to date in 65m water offshore Malaysia then.
As we all know, our industry experiences its fair share of downturns, and our senior management team has been nimble enough to deal with these effectively. Our product range is geared towards minimising operational time and capex, so we are well suited to low oil price times. That's what helped us prosper and achieve a significant milestone of equity investment in 2017 by EV Private Equity, a move that supported our future growth plans.
2018 saw me promoted to Managing Director, and we continued our aggressive growth strategy.
2019 was a record year for Aquaterra financially, and we had high hopes for 2020.
Since joining Aquaterra Energy, you have helped to develop the company's product lines and business strategy. At the start of this year, Aquaterra Energy celebrated 12 months of significant growth in Aberdeen. Where are sights set now?
2019 was a standout year for Aquaterra Energy with record growth in numbers both in the UK and overseas. Our strategy saw us continue that growth into 2020, and beyond as we looked at bolstering existing locations as well as opening new frontiers.
Recent COVID-19 and oil industry events have certainly hindered those plans, but we are keeping them alive and ready so we can re-engage at the right moment.
Right now, the oil and gas industry is experiencing extreme change with both the oil price plunge and Covid-19 pandemic. How has Aquaterra Energy adapted to this new environment and what is the plan moving forward into these uncertain times?
We adapted extremely quickly to the changing environment. Our strategy last year saw us invest in our Technology Roadmap, enabling us to work in a more modern and collaborative way. Admittedly, COVID-19 accelerated those plans considerably, but fortunately we already had the building blocks in place, which has allowed us to keep our staff safe and working from home.
An oil price plunge brings with it many challenges, both for our fellow supply chain and our customers alike. We have worked hard to reach out to both, and work with them as best we can.
Our product and service line is naturally targeted at minimising cost to both oil companies and rig contractors alike, so if anything we are more relevant and essential in a low price market than ever. We are looking to raise awareness of how our services and technology can support our customers during this challenging time, and we have therefore been offering free webinars and online consultancy to help customers with their planning and operational activities. 
Q. As this year progresses, we are seeing a steady rise in decommissioning and P&A activity. Will these markets be more of a focus in the future for Aquaterra Energy?
Decommissioning and P&A has always been a sector we have worked in, but we have never had the full complement of products and services. Earlier this year we signed an agreement with Oceaneering to offer complete late life and decommissioning packages.
We consider this an essential partnership, and Oceaneering saw the significant benefits of our engineering and project management services, as well as our base in Great Yarmouth to help service the Southern North Sea (SNS).
Even in the current climate, it would seem a lot of planned decom work is still going ahead, and we are actively bidding on that work with Oceaneering.
In addition, innovation remains at the forefront of our growth strategy. We recently designed a new conductor pulling unit to support well string retrieval, which we hope to bring to the market this year.
So, decommissioning and P&A has been, and will continue to be, an important part of our offering. 
Discover more from Aquaterra Energy here.
This blog is part of our portfolio spotlight campaign. You can view our full portfolio of investments here.