My experience as a private equity intern
Many young investment professionals see private equity as the promised land of the financial industry. Exciting, varied and hands-on, a private equity internship provides graduates with a bachelor's degree in business, economics or finance with the perfect foundation to kick-start a career in the sector.
At EV Private Equity (EV), we're regularly recruiting interns to our UK and Norway offices, giving young talent opportunities to gain financial industry experience and providing a stepping stone to securing future full-time industry roles. We hope to inspire our interns to climb the private equity career ladder, igniting the interest in analysis and deal sourcing needed to progress to the next level as an analyst.
In this blog, we spoke to Hans Inge Hellestveit, an intern based at our HQ in Stavanger who's been with us for just over three months. Hans chats to us about what it takes to be successful as a private equity intern, his day-to-day tasks, and what he's taken from his time at EV.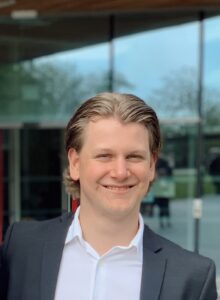 Can you describe your job in a nutshell?
I mainly work in the origination and deal flow stages, which means I help the wider team identify and research investment targets. This involves analysing companies that fit our investment mandate, and understanding how their solutions can contribute to emissions reduction, their competitive position, financials, and the markets that surround them.
In this role, you come across many interesting companies – all at different stages of the investment cycle. What makes my job even more exciting is that these companies and technologies all have the potential to contribute to the ongoing global energy transition.
From time to time, and depending on what's going on in the office, I also take on other duties to support my team.
What does a typical day look like?
That's hard – every day is different. I usually start around 8am, catching up on emails, reading industry news and organising my tasks for the day. So far during my internship, I have mostly worked alongside and supported Lars Sund, Associate, and Espen Strøm, Senior Partner, but also assisted the wider team too. I attend a few regular EV-wide meetings, including a weekly deal flow meeting – hosted by Espen.
After work, I set aside some time for my studies, hobbies and socialising with friends – a notoriously hard balance to achieve.
What are the key skills that make you good at your job?
Basic analytical and financial skills are important. Harnessing different skillsets learned from other backgrounds, for example in energy technology, help hugely as it gives you a head start on building up knowledge of technology markets and solutions.
Softer, interpersonal skills built up from cross-sector job experience and further education such as good communication, timekeeping and relationship building prove invaluable too.
Maintaining stakeholder, investor, portfolio company and internal team relations is key in private equity. For private equity firms, a competitive edge is about more than fundraising and analytics; it's about transparency, networks and long-lasting relationships.
What made you a good fit for EV?
I'm currently in the final stage of completing a Masters of Finance at The University of Stavanger (UiS), which of course has great relevance to the skillsets needed at EV. As I've lived in the Stavanger area all my life, I've gained insight into the energy sector and its transition, aligning my knowledge with EV and its emissions reduction investment strategy.
An area where I'm expanding my knowledge is in our technology domains, learning from the team to identify which solutions are unique, have the potential to drive sustainable decarbonisation and are placed in markets that are expected to grow over the next few decades.
What advice would you offer someone trying to break into PE now?
It's a highly competitive space so you need persistence, a solid network built from industry events and a relevant degree. There are a lot of great students out there, so when applying for internships it's very common to experience no a few times before you get a yes.
Researching the firms you'd like to work for and their investment strategies before you start the application process is essential. Identifying your top three firms allows you to take a logical approach to the application process.
While EV is a global firm, its HQ is in Stavanger. While studying in the area at UiS, I was well aware of EV. I followed EV on social media, which allowed me to find out more about the firm's culture, portfolio, and story, making EV an attractive choice for me.
What have been your top three takeaways from three months at EV?
Firstly, my experience has taught me why it's important to be open to developing new skillsets. Combining my newly developed knowledge of energy technology with existing interpersonal and finance skills has allowed me to get the most out of my time with EV.
Secondly, EV has shown me why relationships come first in private equity. As a private equity professional, talking to investors and management teams nurtures and grows positive relationships, creating an experience for partners that differentiates you from other firms.
And lastly – and maybe most importantly – EV has demonstrated the importance of a strong work ethic. I've witnessed firsthand the team's drive and strong passion for what they do – crucial traits to have in a highly competitive and fast-paced sector. Everyone at EV is willing to put in the time and effort to succeed, and it's been very motivating to see. We are a small team with an open-door policy, so I think our family-like culture has a large part to play in powering everyone's drive for success.
Important Information
This marketing communication has been issued and approved by EV Private Equity (EV) and in the UK, by EV Private Equity Limited (EVPE). EV Private Equity Limited is authorised and regulated by the Financial Conduct Authority, with a Firm Reference Number 452116. EVPE is a company registered in Scotland, registration number SC298915, with its registered office and place of business at 4 Albyn Terrace, Aberdeen, Aberdeenshire, AB10 1YP, United Kingdom.