Meet our Intern: Banovsha Ibishova
In December we welcomed a new intern, Banovsha Ibishova, to our Stavanger office. Originally from Azerbaijan and armed with a bachelor's degree in Management and a master's in Financial Economics, Banovsha will be working with our Norwegian team on origination, looking for deals that would fit the EV VI mandate.
We asked Banovsha why she chose her career path, what made EV Private Equity a favourable firm, and which part of her new role she is most looking forward to working on.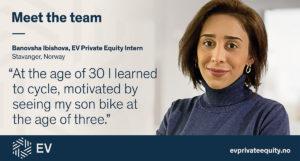 What attracted you to this position at EV Private Equity?
Recently I completed my master's thesis in the energy transition, motivated by the recent shift and global focus on decarbonisation and emissions reduction. Learning of EV Private Equity's mission and the firm's dedication to supporting the development of technology and services that will create a cleaner, more sustainable future for the energy industry, this position was very attractive because it matched my interest perfectly.
What made you interested in a career within private equity?
With a background in finance, a career with an investment firm seemed like a natural fit and would provide me with the opportunity to grow. As an intern, this position will allow me to learn from A to Z about the private equity market.
What part of your role are you most passionate about?
I really enjoy getting stuck into researching the renewables markets and becoming more familiar with new technologies that will aid the energy industry transition to net zero.
Can you describe what your experience has been like within the Norwegian EV team so far? Did anything surprise you?
As a non-Norwegian, I have found that I've easily integrated into the Norwegian EV team, which I believe is due to the strong presence of the office's family-like environment, where everyone supports one another.
As an impact investor, EV Private Equity invests in energy technologies that create sustainable value as we transition to a low carbon future. Which technologies, breakthroughs or projects excite you in this all-important space?
The low carbon technologies that will enable a green future are exciting to me. The era of clean tech is on the rise now, and the widespread adoption and investment into these net zero technologies will allow us to achieve global climate goals through innovation. By applying deep energy industry expertise and investing responsibly, EV is playing an important role in contributing to the energy transition though sustainable energy technology.
Where do you see your career in the next 5-10 years?
With the huge potential of the renewables industry only growing stronger, I anticipate that my future career will centre around the clean tech market, and I hope to take a leadership role one day.
What advice would you share with students or graduates considering a career in private equity?
To start your career in private equity, it is essential to come from a finance background or have a finance related degree. For students who have completed higher education in the subject of finance, I would recommend pursuing a career in private equity as it's an industry where you can put the skills learnt into practice, whilst also learning about a dynamic, ever-growing market.