Impact Investing for a Sustainable Energy Future
In December our Senior Partner, Einar Gamman, took part in the 'Collaboration for a Sustainable Energy Future' webinar, which was hosted by The Royal Norwegian Consulate General in Houston, Innovation Norway and Norwegian Energy Partners, as part of Norwegian Energy Week 2020. 
During the webinar he shared his insights on the energy transition, as well as EV Private Equity's commitment to responsible investing. If you didn't manage to catch the webinar, don't worry, we have shared the key points from Einar's presentation here in this blog so you don't miss out.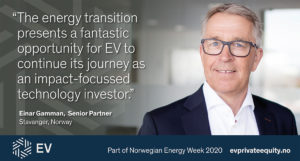 Where did it all begin for EV Private Equity and how has the firm evolved?
EV Private Equity was established as Energy Ventures back in 2002. Since then, we have raised six private equity funds, with a total committed capital of approximately $1 billion. We have offices in Stavanger, Aberdeen and Houston, with a team of 19 that have strong energy industry and hands-on management experience.
Throughout our history we have made 58 main investments, a similar amount of bolt on investments, and we have completed the private equity value chain by delivering 30 exits so far.
We have invested in Europe and North America to date, and historically, our attention has been on the oil and gas side of the energy mix. However, looking ahead our focus is very much on how we can support the energy transition, which aligns with our sustainable energy and quantifiable impact mission.
Part of this mission will see us continue to invest in differentiated technology businesses as we always have done. Recently, we have added specific investment criteria which means we require all new portfolio companies to contribute to reducing greenhouse gas emissions on a net basis.
The Energy Transition Opportunity
From our perspective, the energy transition presents a fantastic opportunity for EV Private Equity to further develop and continue our journey as a differentiated technology investor.
The energy transition has three very important ingredients;
Firstly, it has strong support from the general public and the backing of political groups.
Secondly, it represents a huge visible and growing market.  Despite the pandemic and economic uncertainties, investor appetite for renewables remains strong [1]. The IEA predicts that renewables will provide nearly half of the world's electricity by 2050, transforming the future energy mix [2].
As a result of this growing demand, we target investments in companies that are providing innovative solutions, and or services, to the renewable industry and to the deep carbonisation of industrial value chains, including electrification and energy efficiency solutions.
Thirdly, and equally as important, it presents a unique opportunity to increase the industry's focus on sustainable operations and approaches to energy generation, and make a positive environmental impact.
With this in mind, our focus is to invest in specific technologies and pioneering companies, which would benefit from our expertise and strong track record for growing service offerings, geographic reach and market share.
As an overarching mega trend when it comes to technology, we also look for opportunities to fund the so called 'digital transformation'.  Digital tools and technologies that have and continue to emerge through this period have, and will, prove very important for the energy transition and emissions reduction.
Digitalisation is improving the safety, productivity, accessibility and sustainability of our energy systems. From allowing the integration of renewables into power grids, to extending the lifetime of assets and decreasing manpower, digitalisation is key to enabling smarter operations in the energy industry as we transition to a low carbon economy.
The digital transformation opportunity has been part of the EV Private Equity DNA for close to two decades, and we are well positioned to continue contributing to this important trend in the energy sector. Within our current portfolio, we are supporting 22 innovative companies in the development of sensor and software technologies that can revolutionise energy operations including Bluware, Geoteric and Halfwave Subsea.
Responsible and Sustainable Investments
In recent years, we have spent a considerable amount of time studying the latest frameworks for responsible and sustainable investments. There are many, and there is a clear need for consolidation.
EV Private Equity became signatories of the United Nations Principles for Responsible Investment (UNPRI) in June 2019, which has helped us to establish a framework for running our ESG processes. I am proud to say that, as of August 2020, we are ranked in the top quartile of the UN's private equity rating system.
Aside from the UNPRI, there are several more astringent requirements and policies that we see coming. An example of this would be the EU Taxonomy. As I write this, a lot of political and industrial lobbying is still on-going in and around European parliament on this subject. But regardless, the EU Taxonomy will be implemented, and it will impact most of us moving forward due to investment categorisation and the increased pressure to evaluate the sustainability of investments.
EV Impact Pledge
Being able to accurately measure the impact our portfolio companies have on the environment and society is high on our agenda. In order to achieve this, we have defined what we call the EV 'Impact Pledge'.
We are operating in a market that demands attractive financial returns, and we are not making any trade-offs in this respect. Looking ahead, 100% of our future investments will be focused on companies providing products or services that eliminate the use of hydrocarbons, or companies and products that substantially reduce carbon footprint or intensity of their customer operations.
Over a 10-year period, we pledge that all of our new investments on average will generate an accumulated net reduction of one tonne of co2 equivalent per $300 we invest.
As our Impact Pledge is quantitative, we needed a robust framework that would allow us to measure, impact,  and assess our progress in meeting the greenhouse gas impact targets. To handle this, we have developed a robust measurement framework, EVIQ™ (EV Impact Quantification).
This unique and proprietary tool, which is built on the broadly recognised principles of the Green House Gas protocol[3], will enable EV to provide and document the Impact achievements of our investment activities, keeping aligned with TCFD and EU taxonomy disclosure requirements. We're proud to have created a best practise for how impact is measured, allowing us to make a positive impact beyond climate change, whilst creating sustainable shareholder value.
Explore our responsible investment strategy here.
[1] IEA 'Renewables 2020'
[2] IEA 'World Energy Outlook 2020'
[3] GHG Protocol Corporate Accounting and Reporting Standard