EV Private Equity supports US communities and reserves
2020 saw us contribute a total of $2,834 (24,208 NOK) to US charities, Save The Children, Habitat for Humanity and Bayou Land Conservancy, through our EV Private Equity Charitable Initiative (EVCI). These monthly donations have been made as part of our EVCI programme, which supported charities around the world with a total of $11,732 (100,000 NOK) throughout 2020.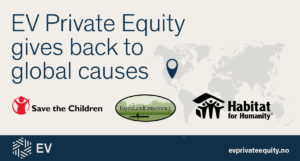 As a leading private equity firm, we are uniquely positioned to make a positive impact, both through our portfolio of responsible investments, and by strengthening our local and international communities.
Save The Children is a leading advocate for young people, ensuring their voices are heard and their best interests are prioritised. We sponsor two children in the Appalachia region of the US, giving them a healthy and happy start in life, whilst providing them with the opportunity to learn.  Promoting equal opportunity is a cornerstone value at EV Private Equity, which is why we strive to protect these children, who will shape the future.
Global non-profit, Habitat for Humanity, works in unison with local communities across all 50 states in the U.S. and in approximately 70 countries to address the issues of poor housing conditions. Our donation will help fund home construction and allow families to call a safe place their home. In a time where the coronavirus has stripped people of their jobs and income, Habitat for Humanity's work is ever important.
Our donation to the Bayou Land Conservancy, an organisation based in Texas that protects a number of nature sites in The Woodlands area, will help preserve land along the streams for clean water, wildlife and flood control. As each year passes, hurricanes impose an increased threat to these reserves due to climate change, making it essential to nurture these parks, which have become landmarks for local families to take part in educational programs, surrounded by nature.
Jill Boullion, Bayou Land Conservancy Executive Director commented on the donation:
"We're very appreciative of the investment that EV Private Equity is making into land conservation through the Bayou Land Conservancy. Its monthly donation allows us to steward more than 14,000 acres we permanently protect, seek out additional land to preserve to benefit the community, and engage both adult and youth in the community through our education programs.
"EV Private Equity also helps support the Spring Creek Nature Trail, our 14-mile, natural surface trail that meanders along Spring Creek and welcomes thousands of people every year."
Helge Tveit, EV Private Equity Managing Partner said:
"As the final round of 2020 EVCI donations are granted, we are grateful to have been in a position to continue helping causes that are close to our team. These charities have been placed in a precarious situation, struggling with the impact of COVID-19 and forced to deliver additional services with fewer volunteers.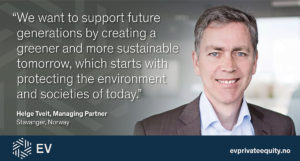 "At EV, we believe it is vital to acknowledge our shared humanity and the common challenges we face, which is why it has been a privilege to contribute to the organisations that remain at the heart of our communities. We want to support future generations by creating a greener and more sustainable tomorrow, which starts with protecting the environment and societies of today."
Find out about our responsible investment strategy here.